Monograms. Do you have one in your home? Have you received one as a gift? If you are from the south, you are sure to have walked into many homes and seen these lovely items. Better yet, you have at least one monogrammed towel in your home.
What is a monogram?
Monograms are typically two to three words that are found on plates, sheets, pillows, backpacks, and anything that isn't moving.
It might include a single letter representing the family's given name (i.e., surname or last name). Or a large single letter with two smaller letters representing the everlasting union of newlyweds.
Monograms are a trademark of Southern hospitality. Whether you have one or have seen one, it is very common to see these stylish items in a home. One of the most commonly recognized monogramming is with towels. Monogrammed towels are either kept hidden for guest or tucked neatly in the guest bathroom.
Growing up, you were never to use the monogram towels, they were for decoration or for your special guests.
A monogram is a motif made by overlapping or combining two or more letters or other graphemes to form one symbol. Monograms are often made by combining the initials of an individual or a company, used as recognizable symbols or logos. A series of uncombined initials is properly referred to as a cypher (e.g. a royal cypher) and is not a monogram.
Monogramming items dates back to early Greece and Rome when the elite, aristocrats, and rules used their initials to authenticate currency.
Monograms first appeared on coins, as early as 350BC. The earliest known examples are of the names of Greek cities which issued the coins, often the first two letters of the city's name. For example, the monogram of Achaea consisted of the letters alpha (Α) and chi (Χ) joined together.
Monograms have been used as signatures by artists and craftsmen on paintings, sculptures and pieces of furniture, especially when guilds enforced measures against unauthorized participation in the trade. A famous example of a monogram serving as an artist's signature is the "AD" used by Albrecht Dürer.
In the Middle Ages, embroidered monograms helped identify a family's laundry, which was washed communally. Having a sister who was close to my size, until I reached the age of 12, made it necessary for my mother to write the letters "J" and "T" in the tags of our underwear.
Monograms took off during the Victorian era as a symbol of wealth. An 1871 article in Appletons' Journal referred to enthusiasts of the trend as "monogramaniacs."
The modern era of monograms
An individual's monogram may appear in stylized form on stationery, luggage, clothing, or other personalized items. These monograms may have two or three letters.
A basic 3-letter monogram has the initial of the individual's last name (surname) set larger, or with some special treatment in the center, while the first name initial appears to the left of it and the middle name initial appears to the right of it. There is a difference in how this is written for men and women. For example, if the individual's name is Mary Ann Jones, and Jones is the surname, then the arrangement of letters would be thus: MJA, with the surname initial set larger in the center, the M for Mary to the left and the A for Ann to the right. Traditionally, individual monograms for men[6] are based on the order of the name. The name Kyle George Martin would be written (KGM).
Married or engaged couples may use two-letter monograms of their entwined initials, for example on wedding invitations. Married couples may also create three-letter monograms incorporating the initial of their shared surname. For example, the monogram MJA might be used for Michael and Alice Jones. However, monogramming etiquette for the married couple varies according to the item being monogrammed. Linens, for example, typically list the woman's given initial first, followed by the couple's shared surname initial and then the man's given initial (AJM). Monograms can often be found on custom dress shirts where they can be located in a number of different positions.
Some personal monograms have become famous symbols in their own right and instantly recognizable to many, such as J.R.R. Tolkien's monogram.
High-end designers know the power of monograms and use them in their branding. The Double Cs for Chanel. A MK bag is easily recognized as Michael Kors. See Southerners are stylist afterall.
Why did monogramming become a southern tradition?
Family is one of the top priorities of any southern home. Family names meant something. I can remember growing up and meeting someone new and was asked, "What is your family name." You not only needed to know your father's and mother's name but also where they came from.
It wasn't common for someone to know of a "Harrison from Buford, SC" and asked where they your kin.
The regional emphasis on family tradition and the ties to family name could be the catalyst for the monograming tradition.
Beyond our affection for all things family, she says, the South's obsession with monogramming also has something to do with our affinity for our region's history and culture.
What is the proper way to monogram?
There is a right way to monogram. Beyond the traditional three-letter style, in which the initial for one's surname is largest and centered, a host of etiquette rules govern the handling of hyphenated names, couples' monograms, and other variations. (Who made these rules? Unclear. But like our names, we're stuck with them.)
Hooked Yet?
Are you ready to start making your home a more southern with this traditional style? Consider the following items to create your special monogrammed item.
Monogram Door Hanger, Personalized Door Hanger, Front Door Decor, Custom Door Hanger. This monogram script door hanger is perfect for all seasons and will coordinate with any door! Also, goes great on a wall, propped on a piece of furniture or mantle.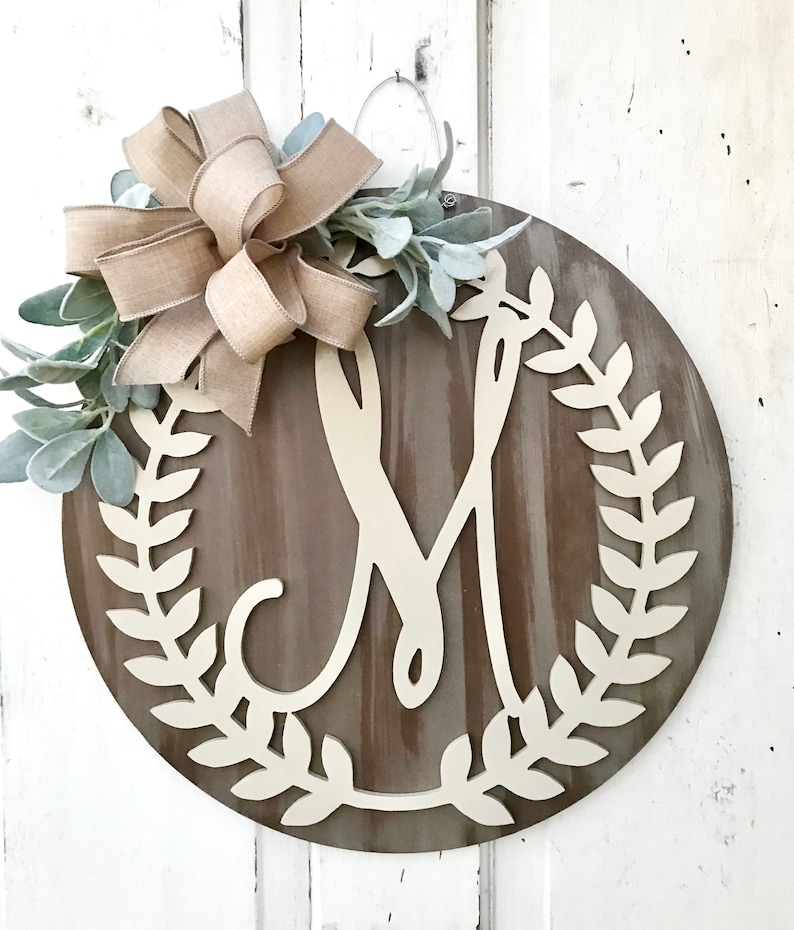 Monogram King Pillow Sham with Custom Embroidered Border. It's all in the little details, so we decided what better way to make your own custom designed pillow sham, by taking a simple white Euro pillow and letting you choose the embroidery. Whether it's half moons, diamonds, zig zag, waves, or ovals, it's bound to be your own especially when you can choose from over 35 thread colors and of course a personal monogram.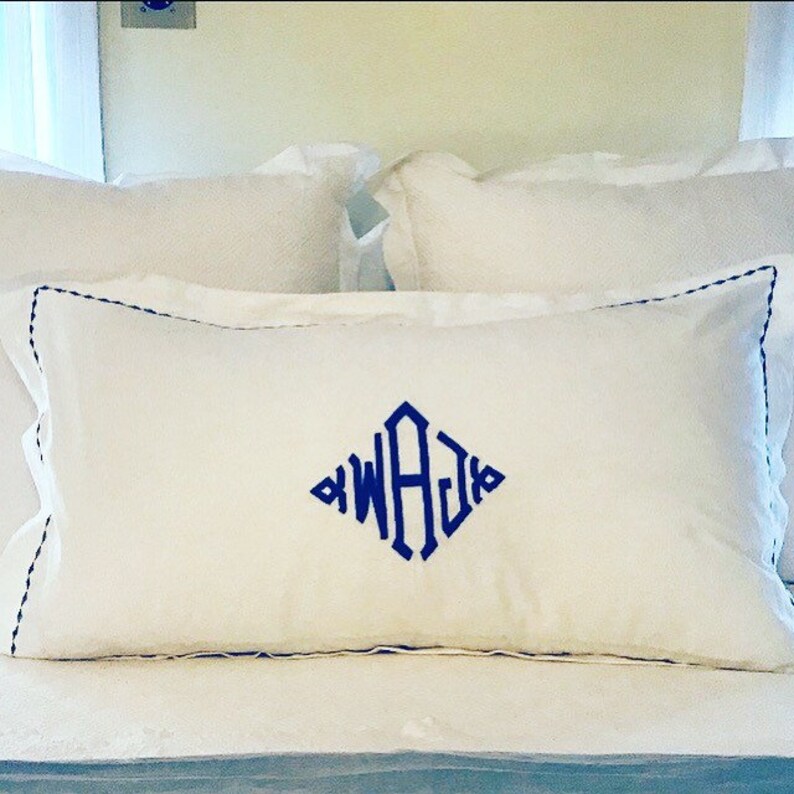 Monogrammed Southern Girl Chevron American Flag T-shirt. Our signature Chevron FlagTees are designed exclusively by us here at Tiny Tulip! They are so preppy & cute! Available in Long Sleeve or Short Sleeve they are sure to be your favorite tee! Chevron Flag is on the back of the shirt & your monogram is included in your choice of font & font color on the front of the tee.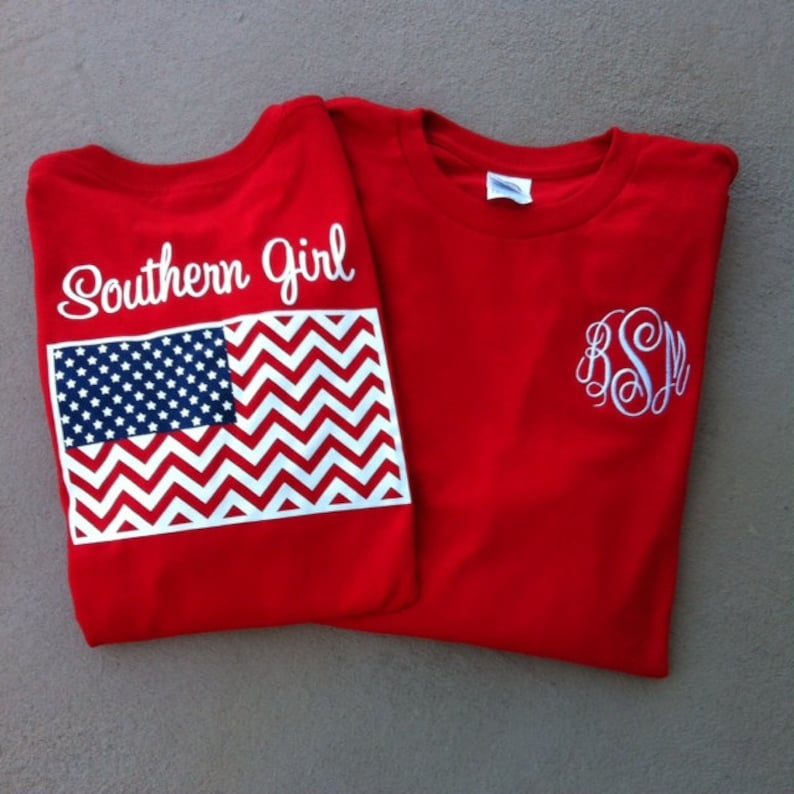 Kate Spade New York Initial Tumbler. Tumbler with straw holds 20 ounces (591 ml) and is only suitable for cold beverages. Insulated tumbler features a double wall design that keeps contents cool and your cup free of condensation.
For those who perhaps were not born and raised in the South and find the monogram a blaring question mark over their heads, here is a quick briefing. Monogram, by definition, is the artful and intentional placement of letters (initials) as a way to represent and identify yourself. 
Consider monograming yourself.
If it doesn't move, you can monogram it. Consider buying iron on or permanent vinyl to monogram items in your homes including jewelry, pillows, clothes, and alike.
Outdated trend or southern tradition?
Southerners love monogramming everything. Yes, everything. We've never found anything we can't monogram. Our love for monogramming goes far beyond the personalized wedding towels.
With designers using monograms there is no way one could argue it is outdated. It is just another style that southerns can be proud of and you can enjoy in your home as well.